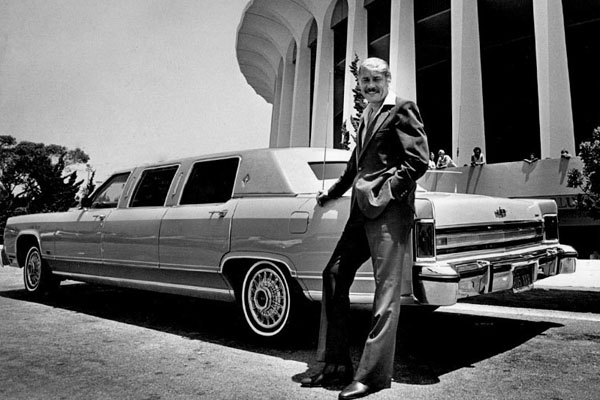 My greatest celebrity encounter came about eight years ago, at the MGM Grand in Las Vegas, early on a Saturday evening, while playing Pai-Gow Poker, as I often am when in Vegas, in the pit directly in front of the Studio Cafe. Alone at the table – not a terribly high limit one – $15 or $25, I believe, I see Dr. Jerry Buss approaching, 2 gorgeous young ladies in tow. The ladies sit down at third base and the seat directly to its left, with me situated two seats to the left of that. Dr. Buss calls over the pit boss and immediately has the limit at the table raised to $10,000 per hand, presumably so that his dates could play ($25 a hand) in peace without getting harassed by any Patron'd up party boys.
A "he's cool" from the pit boss was thankfully sufficient to grandfather me in to my seat and a sub-five-figure limit. All of the necessary arrangements in place, Dr. Buss prepared to head off, presumably to a smoke-filled, marble and crystalline room, where a collection of tycoons of his ilk would proceed to play Monopoly, with actual real estate. As he began to walk to away, I had fanned my cards in order to set my next hand. As I did this, I spotted something over my right shoulder, out of the corner of my eye. It was Dr. Buss., scoping out my cards. We agreed with a nod on the proper play and I set down my hand.
Winner.
Sweet! I just played a hand of Pai Gow with Jerry Buss! And won!
Only, Dr. Buss remained at my shoulder as the next hand was dealt about a minute later. Again, nary a word during our momentary strategy session and setting of my hand.
Another winner.
Holy hell it happened twice! This. Is. AWESOME.
A third hand is dealt, this one a dud. We both cringe and chuckle, as I set my hand and hope for the best. A lucky push! Rinse, repeat, try not to tremble visibly.
It is on the ensuing hand that I am finally dealt defeat, at which point Dr. Buss announces that he's "got to get going." Upon doing so, he pats me on my now-catatonically paralyzed back, smiles and says, "I wasn't going to leave while we were winning."
While we were winning. The owner of Los Angeles Lakers – Dr. Jerry freaking Buss! – didn't want to mess with my mojo.
Reduced at this point to puddle in my chair, all I could conjure was "Dr. Buss, I am a lifelong Laker fan. Thank you so much, for everything." He shook my hand and proceeded to thank me. With that, he was off, over the neon horizon, in search of a hot streak of his own. Unsure whether to vomit or cry, I just sat there, for what felt like an eternity.
No, Dr. Buss. Thank you.
Thank you for your vision. Thank you for your commitment. Thank you for trusting your gut – as well as those of the men and women in your employ. Thank you for 33 seasons, 31 playoff appearances, 16 Finals appearances and 10 new banners. Thank you for taking care of Ronny Turiaf's heart surgery his rookie season. Thank you for – not once, but twice – convincing Kobe Bryant pastures are never greener than when they are purple and gold.
Thank you for "These men put their hands together, their souls together and brought me with them":
Thank you for the impossibility that was the Forum in the 1980s. That, in a city like Los Angeles, it was your venue to which the A-list flocked, showing up early, creating a playoff atmosphere during even a mid-March tilt against the Indiana Pacers, and partying well into the night at the Forum Club. You made possible and presided over a time in Los Angeles that will not, can not, ever be replicated. Neither the Lakers nor the NBA will ever be the same in your absence. That everything will always work out in Lakerland can no longer be taken for granted.
Rest in peace, Dr. Buss.
Thank you for running your team the right way. Thank you for bringing so much joy to so many.